About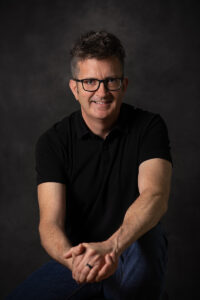 Jim Reese is Associate Professor of English and Director of the Great Plains Writers' Tour at Mount Marty University in Yankton, South Dakota. Reese's poetry and prose have been widely published, and he has presented at hundreds of venues throughout the country, including the Library of Congress and San Quentin Prison—he has shared stages with David Sedaris, Craig Johnson, C.J. Box, Ted Kooser, Maria Mazziotti Gillan, Marc Cameron and many more.
From 2007-2021, Reese was one of five artists-in-residence throughout the country who were part of the National Endowment for Art's interagency initiative with the Department of Justice's Federal Bureau of Prisons. Here he established Yankton Federal Prison Camp's first creative writing workshop and publishing course, editing a yearly journal, 4 P.M. Count, which featured creative writing and visual artwork by "inmates". For three years he also worked as a Contractual Education Instructor for the South Dakota Department of Corrections Writing for Reentry Program. He speaks throughout the country on the repercussions of crime, the benefits of writing for wellness in a correctional environment and connecting with people in marginal, non-traditional spaces.
His books include These Trespasses (The Backwaters Press 2005), ghost on 3rd (New York Quarterly Books 2010), Really Happy! (NYQ Books 2014) and Dancing Room Only—New and Selected Poems (NYQ Books 2024). His book of nonfiction, Bone Chalk, was published by Stephen F. Austin State University Press in 2020.
Reese's awards include a 2022 Distinguished Teaching Award from Mount Marty University, First Place Allen Ginsberg Poetry Award, a Distinguished Achievement Award from Mount Marty University, and a Distinguished Public Service Award in recognition of his exemplary dedication and contributions to the Education Department at Federal Prison Camp Yankton.
High Resolution Photos for Print Media:
2023 photos by Saralyn D Photography
Low Resolution Photos for Web:
---
Photos by Bernie Hunhoff, taken at Clay Co. Jail